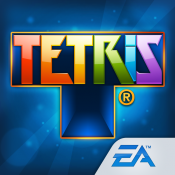 TETRIS®
Brief Description:
DISCOVER THE ALL-NEW TETRIS® GAME! Don't miss one of the bestselling mobile games of all time – now with more features than ever befo
Seller:
Electronic Arts Inc.
Current Version Rating:
4.50 stars, 87 ratings
All Versions Rating:
4.00 stars, 7987 ratings
Get in App Store
Description:
DISCOVER THE ALL-NEW TETRIS® GAME! Don't miss one of the bestselling mobile games of all time – now with more features than ever before. Play the world famous Tetris® game you know and love with improved controls and all-new social features. This app offers in-app purchases. You may disable in-app purchasing using your device settings. See http://support.apple.com/kb/HT4213 for more info THE CRITICS THINK IT'S SMASHING! "…a fresh take on a favourite... [fuses] old with new for what proves to be a welcome update." (Pocket Gamer) "[OneTouch] is quite fantastic, and a perfect fit for touch screens." (Gamezebo) CHECK OUT THESE RADICAL NEW FEATURES: • MARATHON MODE – We've added all-new controls so you can stack like a pro. Choose between lightning fast One-Touch, original Swipe controls, or the innovative new Drag-and-Place option to keep clearing those lines. • TETRIS® GALAXY – Try this new multi-level mode! Clear to the core as you drop each Tetrimino with split-second intensity and use power-ups to transform the blockade below! • TETRIS® RANK – Keep a tally of every line you've ever cleared. JOIN THE T-CLUB TO ACCELERATE YOUR EXPERIENCE! Are you a hardcore Tetris® fan? The T-Club is an optional membership for elite players to gain extra benefits when they play! Earn 15% more T-Coins and lines with every game. Spend extra coins on Power-ups and elevate your rank with awesome 5-star scores! You'll even get discounts on new galaxies and Tetris® music! For more information about the targeted ad serving technology in this app and data it collects, see License Agreement. Terms of Use: http://www.ea.com/terms-of-service Privacy and Cookie Policy: http://www.ea.com/privacy-policy Game EULA: http://tos.ea.com/legalapp/mobileeula/US/en/GM/ Visit https://help.ea.com/ for inquiries. Important Messages for Consumers : Origin mobile services are included with this Application. See https://help.ea.com/en/origin and End User License Agreement for details. This app contains direct links to social networking sites intended for an audience over 13. This app contains direct links to the Internet. For all countries other than Germany: EA may retire online features and services after 30 days' notice posted on www.ea.com/1/service-updates. For Germany: EA may retire online features and services after 30-days notice per e-mail (if available) and posted on www.ea.com/de/1/service-updates. Terms of Service : http://www.ea.com/terms-of-service Privacy and Cookie Policy: http://www.ea.com/privacy-policy Game EULA: http://tos.ea.com/legalapp/mobileeula/US/en/GM/ Visit https://help.ea.com/ for assistance or inquiries. EA may retire online features and services after 30 days' notice posted on www.ea.com/1/service-updates. Important Consumer Information. This app: Contains direct links to the Internet; Collects data though third party ad serving and analytics technology (See Privacy & Cookie Policy for details).
What's New in Version 1.5.10:
Hello players! We've done some polishing to provide an awesome experience on iOS8 and iPhone® 6 and iPhone® 6 Plus. Thanks as always for playing Tetris®.