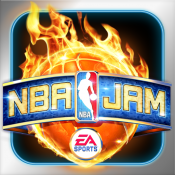 NBA JAM by EA SPORTS™
Brief Description:
BOOMSHAKALAKA!!! Jam with a friend in Local Multiplayer and rock your iPhone or iPod touch with all the over-the-top, high-flying, 2-on-2 arcade bask
Seller:
Electronic Arts Inc.
Current Version Rating:
4.00 stars, 1947 ratings
All Versions Rating:
4.00 stars, 15941 ratings
Get in App Store
Description:
BOOMSHAKALAKA!!! Jam with a friend in Local Multiplayer and rock your iPhone or iPod touch with all the over-the-top, high-flying, 2-on-2 arcade basketball action just like you remember it – and like you've never seen before! Go to the hole. Go strong. Go for the monster jam. KABOOM! This app offers in-app purchases. You may disable in-app purchasing using your device settings. See http://support.apple.com/kb/HT4213 for more info FANS & CRITICS ARE ALL ON FIRE! "NBA JAM brings arcade hoops directly to your pocket — no quarters required." (App Store "iPhone GAME OF THE WEEK") "…overwhelmingly satisfies in every way if you were ever a fan of the original NBA Jam series." (Jared Nelson, Touch Arcade) "4/4 MUST HAVE…a sports game that action or arcade gamers will love…" (Andrew Podolsky, Slide to Play) "…solid controls, great graphics, and fun on-the-court action" (Tracy Erickson, PocketGamer) "It performs flawlessly in every way." (IntoMobile) HEAT UP ON iPHONE & iPOD TOUCH Jam with all 30 NBA teams and your favorite NBA stars! Unlock legends from the classic arcade era like Scottie Pippen, Dennis Rodman, Dr. J, Scott Skiles, Karl Malone, Detlef Schrempf, and Danny Manning – plus some secret players you can only get on iOS. Open up outrageous cheats, too. And if you can't wait to go big, all the unlocks are available for instant purchase and download in the JAM store! PLAY NOW! PLAY CLASSIC! PLAY HEAD-TO-HEAD AGAINST A FRIEND! 3 modes of play let you ball the way you want: • Play Now – Select a team and jump right into the ballgame • Classic Campaign – Defeat all other teams to win the championship, and unlock legends, hidden players and cheats • Local Multiplayer – Go big head 2 big head against a friend on iPhone/iPod touch or iPad via local WiFi and Bluetooth Also select from two different control schemes (D-Pad and gesture-based) and take advantage of the outstanding versatility of your iPhone/iPod touch. Is it the shoes? YOU'RE ON FIRE! If you're from the Old School, you'll feel the '90s nostalgia while you play the hottest new arcade sports game on the App Store. Featuring the voice of Tim Kitzrow (the original NBA JAM play-by-play announcer), you'll hear all the classic catchphrases plus a few new ones recorded just for this game. This JAM is all about "boomshakalaka"¬– and beyond! _______________________________________ ** DON'T MISS OUR OTHER EXCITING GAMES! ** SCRABBLE, The Sims™ 3, TETRIS®, MONOPOLY, Madden NFL 11 by EA Sports™, Pogo Games FREE, Liqua Pop, ROCK BAND® Reloaded, Need for Speed™ Hot Pursuit & Surviving High School FREE GIFT THIS APP: Click the "Buy App" arrow on the iTunes® App Store Be the first to know! Get inside EA info on great deals, plus the latest game updates, tips & more… VISIT US: ea.com/iphone FOLLOW US: twitter.com/eamobile LIKE US: facebook.com/eamobile WATCH US: youtube.com/eamobilegames Terms of Service : http://www.ea.com/terms-of-service Privacy and Cookie Policy: http://www.ea.com/privacy-policy Game EULA: http://tos.ea.com/legalapp/mobileeula/US/en/GM/ Visit https://help.ea.com/ for assistance or inquiries. EA may retire online features and services after 30 days' notice posted on www.ea.com/1/service-updates. Important Consumer Information. This app: Contains direct links to the Internet; Collects data though third party ad serving and analytics technology (See Privacy & Cookie Policy for details).
What's New in Version 1.0.55:
NBA JAM IS READY FOR A NEW SEASON! The NBA heats up on Christmas Day, so we're making sure all you hoops fans can share the joy of BOOMSHAKALAKA with friends! Update now for these new features: • Enjoy more action on the court with iOS5 support! • Stay connected to other ballers with Origin • Get your game-on with Game Center Thanks for playing NBA JAM. If you dig this version, please give us a ***** rating and we'll keep bringing it strong – all season long!