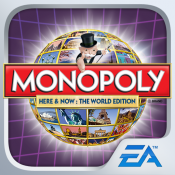 MONOPOLY Here & Now: The World Edition
Brief Description:
THE GAME YOU KNOW & LOVE GOES GLOBAL. Build an empire with the world's most coveted real-estate properties like Paris, Rome and Barcelona. _____
Seller:
Electronic Arts Inc.
Current Version Rating:
3.50 stars, 750 ratings
All Versions Rating:
3.50 stars, 26941 ratings
Get in App Store
Description:
THE GAME YOU KNOW & LOVE GOES GLOBAL. Build an empire with the world's most coveted real-estate properties like Paris, Rome and Barcelona. _______________________________________ BUSINESS AT HAND Use innovative touchscreen controls to Buy, Trade & Upgrade your properties for profit. Shake to roll the dice & swipe to stack your cards. CHECK OUT THE VIEW Wheel & deal your way to the penthouse in a 3D, interactive playing environment with animated tokens! COMPETE WITH FAMILY & FRIENDS Share the wealth with up to 4 other people with Pass'N Play or WiFi Multiplayer. ROCK OUT WHILE YOU MAKE $$ Tap into your iTunes® Library and listen to your favorite music while you play! ________________________________________ ** DON'T MISS OUR OTHER EXCITING GAMES! ** SCRABBLE, The Sims™ 3, TETRIS®, MONOPOLY, Madden NFL 11 by EA Sports™, Pogo Games FREE, Liqua Pop, ROCK BAND® Reloaded, Need for Speed™ Hot Pursuit & Surviving High School FREE GIFT THIS APP: Click the "Buy App" arrow on the iTunes® App Store Be the first to know! Get inside EA info on great deals, plus the latest game updates, tips & more… VISIT US: ea.com/iphone FOLLOW US: twitter.com/eamobile LIKE US: facebook.com/eamobile WATCH US: youtube.com/eamobilegames Terms of Service : http://www.ea.com/terms-of-service Privacy and Cookie Policy: http://www.ea.com/privacy-policy Game EULA: http://tos.ea.com/legalapp/mobileeula/US/en/GM/ Visit https://help.ea.com/ for assistance or inquiries. EA may retire online features and services after 30 days' notice posted on www.ea.com/1/service-updates. Important Consumer Information. This app: Contains direct links to the Internet; Collects data through third party analytics technology (see Privacy & Cookie Policy for details).
What's New in Version 2.4.44:
The Holidays are HERE & NOW! Let it snow over your real estate empire with this holiday update! Santa says pass "GO" and collect all these new goodies: • Move around the board as a tree, snowflake, snowman or ice skate • Spread the joy with friends via Origin • Celebrate with an all-new EA logo Give MONOPLOY HERE & NOW a holiday-twist! We wish you good times, good cheer and a happy New Year!