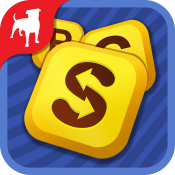 Classic Scramble With Friends
Brief Description:
Beat the clock and your friends: Scramble With Friends is the fast, fun game of finding words on a jumbled grid!  Quickly slide your finger over
Current Version Rating:
3.50 stars, 127 ratings
All Versions Rating:
4.50 stars, 84226 ratings
Get in App Store
Description:
Beat the clock and your friends: Scramble With Friends is the fast, fun game of finding words on a jumbled grid!  Quickly slide your finger over adjacent letters to form words forwards, backwards, sideways…anyway you can!  Challenge a friend to a game or find someone within the Scramble With Friends network.  Try tournaments mode and play against others in a real-time rapid-fire 8-person bracket style tournament. Or sharpen your skills using solo mode. The more you play, the more experience points you earn to unlock fun new tables and win mega-power up prizes.  FEATURE SET: ● No third party ads! ● Tournaments mode lets you compete in a real-time fast-paced 8 person bracket-style tournament in one sitting ● Unlock Tables and Prizes: Earn experience points in Tournaments to unlock new table types and win mega-power up prizes to add more time to your board or help you find more words ● Power-Ups & Tickets: Come back for the daily scramble to win power-ups and tickets to use in Tournaments ● IOS 8 Support: IOS 8 ready with exciting new features including interactive notifications ● Play in 7 languages: Now enjoy Scramble in Turkish and Italian in addition to English, Spanish, Swedish, Dutch, Danish with updated sounds and optimized game boards ● Stats Tracker: Track your own progress over time such as your longest word, speed or highest scoring game REVIEWS: ● "Short but sweet, Scramble With Friends is a game designed exclusively for the socially-enabled wordplay fan. That said, Zynga …has delivered an addictive puzzler for those willing to engage with friends and randoms alike" -- PocketGamer UK ● "One of the best time wasters you'll ever play" - Slide to Play ● "Wonderful way to keep your brain sharp while having fun" – Player Review ____________________________________ Already a fan of the game? Like Scramble With Friends Free on Facebook: https://www.facebook.com/Zynga.Scramble Follow Scramble With Friends Free on Twitter: https://twitter.com/ScrambleWF ____________________________________ ADDITIONAL DISCLOSURES: ● Use of this application is governed by the Zynga Terms of Service. These Terms are available through the License Agreement field below, and at http://m.zynga.com/legal/terms-of-service. ● For specific information about how Zynga collects and uses personal or other data, please read our privacy policy at http://m.zynga.com/privacy/policy. Zynga's Privacy Policy is also available through the Privacy Policy field below. ● This game does permit a user to connect to social networks, such as Facebook, and as such players may come into contact with other people when playing this game. ● Terms of Service for Social Networks you connect to in this game may also apply to you. ● You will be given the opportunity to participate in special offers, events, and programs from Zynga Inc. and its partners. ● Must be 13+ to play. ● Use of this application requires a Facebook or Games With Friends account.
What's New in Version 5.06:
This is the time of year where we all take a minute to be thankful for the great family and friends we have in our lives, and The Scramble with Friends team is grateful for each and every one of you, and your continued support through the years. It's what inspires us to bring you THE MOST FUN, and THE MOST ENJOYABLE experience possible. With that in mind, in this release you will find the following issues resolved: • The bug that deducts an extra token is fixed • The done button now correctly ends the game instead of starting a rematch • In tournaments we've fixed the spinner, ticket discrepancies, long wait times, and zero scores issues and token regeneration issues. Finally, we've added some fun new art that will help everyone get into the holiday spirit! We thank you again for your continued support and hope you continue to reconnect with your family and friends with Scramble With Friends! Happy Holidays from our family to yours!