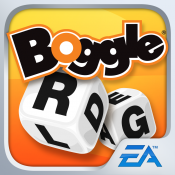 BOGGLE
Brief Description:
TICK-TOCK. BEAT THE CLOCK. Once you start you just can't stop! Test your way with words by playing the popular wordsearch game that's addictive
Seller:
Electronic Arts Inc.
Current Version Rating:
4.00 stars, 144 ratings
All Versions Rating:
3.50 stars, 4216 ratings
Get in App Store
Description:
TICK-TOCK. BEAT THE CLOCK. Once you start you just can't stop! Test your way with words by playing the popular wordsearch game that's addictive fun. This app offers in-app purchases. You may disable in-app purchasing using your device settings. See http://support.apple.com/kb/HT4213 for more info _______________________________________ 3 WAYS TO PLAY Race to win in Challenge Mode, choose a speed in Advanced Mode, and play by your own rules in Self-Score Mode. FEELING COMPETITIVE? Email friends & challenge them to a word duel and find out who can think on their feet the quickest. SMART CONTROLS Shake your iPhone to shuffle 3D letter cubes. Tap and drag to spell the word that wins! CUE THE MUSIC Listen & control music from iTunes® while you play. TAKE A BOW Collect rewards for forming the longest word, the best word, and using the most letters in the shortest amount of time! Terms of Service : http://www.ea.com/terms-of-service Privacy and Cookie Policy: http://www.ea.com/privacy-policy Game EULA: http://tos.ea.com/legalapp/mobileeula/US/en/GM/ Visit https://help.ea.com/ for assistance or inquiries. EA may retire online features and services after 30 days' notice posted on www.ea.com/1/service-updates. Important Consumer Information. This app: Contains direct links to the Internet; Collects data though third party ad serving and analytics technology (See Privacy & Cookie Policy for details).
What's New in Version 1.4.29:
Game update available! We've made behind-the-scenes fixes to keep your game running smoothly.