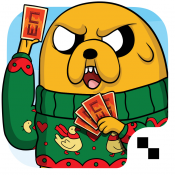 Card Wars - Adventure Time Card Game
Brief Description:
Floop the Pig! It's Adventure Time CARD WARS! Play the game inspired by the Adventure Time episode, "Card Wars"! Summon creatures an
Seller:
Turner Broadcasting System, Inc.
Current Version Rating:
2.50 stars, 145 ratings
All Versions Rating:
3.50 stars, 7756 ratings
Get in App Store
Description:
Floop the Pig! It's Adventure Time CARD WARS! Play the game inspired by the Adventure Time episode, "Card Wars"! Summon creatures and cast spells to battle your way to victory. CARD COMBAT! Command an army of awesome warriors, including Husker Knights, Cool Dog, the Immortal Maize Walker, and even the Pig to destroy your opponent's forces! Place towers and cast spells to unleash ultimo attacks. CUSTOM DECKS! Collect new cards to customize your deck for each opponent. Level up your creatures, spells, and towers, or fuse them together to make your cards even more powerful. HIGH STAKES BATTLES! Think you've got what it takes to be crowned a Cool Guy, or will you end up drinking from the Dweeb cup? Play as Finn, Jake, BMO, Princess Bubblegum, Marceline, Flame Princess and more as you wind your way through the Land of Ooo! It's CARD WARS! ********************* This game is available in the following languages: English, French, Italian, Spanish (Latin America), Brazilian Portuguese If you're having any problems with this app, feel free to contact us at cardwars@d3publisherofamerica.zendesk.com or https://d3publisherofamerica.zendesk.com/hc/en-us/requests/new. Tell us about the issues you're running into as well as what device and OS version you're using. ********************* IMPORTANT CONSIDERATIONS: This app includes the option for adults to unlock or buy additional in-game items with real money to enhance game play, ranging from $0.99 to $29.99 USD (or equivalent amount in the applicable regional currency). You may disable in-app purchases by adjusting your device settings. This app may contain ads that feature other products, services, shows or offers from Cartoon Network & our partners. ADDITIONAL NOTES: iOS will keep you logged on for 15 minutes after an initial in-app purchase. Additional purchases won't require a re-entry of your password during this 15-minute interval. This is a function of the iOS software and not within our control. PRIVACY INFORMATION: Your privacy is important to us at Cartoon Network, a division of Turner Broadcasting System, Inc. This game collects and uses information as described in Cartoon Network's Privacy Policy linked below. This information may be used, for example, to respond to user requests; enable users to take advantage of certain features and services; personalize content; serve advertising; perform network communications; manage and improve our products and services; and perform other internal operations of Cartoon Network web sites or online services. Our privacy practices are guided by data privacy laws in the United States. For users residing in the EU or other countries outside the U.S., please note that this app may use persistent identifiers for game management purposes. By downloading this application, you accept our Privacy Policy and End User License Agreement, and you give permission for such uses for all users of your device. The Privacy Policy and End User License Agreement are in addition to any terms, conditions or policies imposed by your wireless carrier and Apple, Inc. Cartoon Network and its affiliates are not responsible for any collection, use, or disclosure of your personal information by Apple or your wireless carrier. ********************* Terms of Use: http://www.cartoonnetwork.com/legal/termsofuse.html Privacy Policy: http://www.cartoonnetwork.com/legal/privacy/mobile.html
What's New in Version 1.1.7:
Itís Sweater Time! Deck your deck with holiday goodness. Look for festive Card Wars gifts all month long! - New Holiday Sweater Hero Cards - Holiday-themed tree house and loot chests - Special creature, spell, and building cards (limited availability) - Adventure Calendar - Daily gifts for logging in! *** If you're having any problems with this app, feel free to contact us at cardwars@d3publisherofamerica.zendesk.com orhttps://d3publisherofamerica.zendesk.com/hc/en-us/requests/new. Tell us about the issues you're running into as well as what device and OS version you're using.