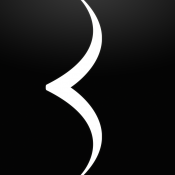 Blek
Brief Description:
*** Apple Design Award Winner 2014 *** *** #1 App in 47 Countries *** "Perfect representation of touch-screen play" (The New York Times). ----- What
Seller:
kunabi brother GmbH
Current Version Rating:
4.50 stars, 674 ratings
All Versions Rating:
4.50 stars, 13961 ratings
Get in App Store
Description:
*** Apple Design Award Winner 2014 *** *** #1 App in 47 Countries *** "Perfect representation of touch-screen play" (The New York Times). ----- What Players Think - Our Favorite NEW Reviews ----- "I found it beautiful, poetic even, and a joy to complete. All four in our family really got into it, and we each found different solutions to the levels, encouraging a creative approach to problem solving that is quite unique amongst games." - Nixpix2003 "Best puzzle game since Tetris" - Deejae snafu "Proof of the existence of superior alien intelligence" - Grist "Marvelously frustrating - Exactly what a game should be" - Yoram We'll keep updating this list. Thanks so much for playing and for all your support! ----- Recognition & Commentaries ----- • The Best, Most Elegant iPhone Games ~ The New Yorker • The 12 Best Games for the iPad ~ Kotaku • 10 Must-Play Video Games Of 2013 ~ Fast Company "One of the most interesting and clever little iOS games I've seen in a long, long time." ~ Rami Ismail "What a completely marvelous thing!!" ~ Adam 'Atomic' Saltsman "It's the sort of game you'd want to put on a space probe: when the aliens play it, they'll take a liking to us right away." ~ Joshua Rothman, The New Yorker "The genius of Blek's design is that it channels that weird sense of freedom you get from helping a doodle unfold - the freedom that comes of kicking yourself loose from life's formal structures" ~ Christian Donlan, Eurogamer ----- Overview ----- Blek is a unique game about imagination and personality. Everything you draw keeps moving - and watching your creations move is like watching magic. The goal is simple: shape a line that collects all colored circles avoiding black holes on its route. There are no specific moves that you need to master. To every level countless solutions exist, from delightfully simple to exceptionally deep and complex, yet always elegant. • Truly unique & entertaining experience • Incredibly appealing and clever gameplay • Includes 60 amazing levels with more to come soon • Meticulously designed for the iOS devices • Game Center Achievements & Challenges • iCloud Sync - Your progress will be saved on all devices ----- Awards ----- • Best Mobile Game - Casual Connect Europe, Amsterdam • Excellence in Innovation - International Mobile Gaming Awards • Best Game - Content Award Vienna ----- Articles ----- "One of the greatest joys of Blek is experimenting with your approach." ~ WIRED "Blek is a perfect representation of touch-screen play. It's one of the year's best iPad games." ~ The New York Times "Wonderful experience" ~ Pocket Gamer "Blek is a thing of elegant, intuitive beauty" ~ Edge "Utterly, utterly brilliant" ~ Indie Statik
What's New in Version 1.3:
+ iOS 8 support added + Optimizations for iPhone 6 & iPhone 6 Plus Thanks for all the fantastic support! We don't want to interrupt the game with messages and notifications, so if you have a free moment, please consider rating our game.