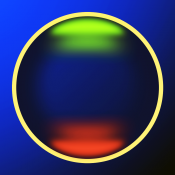 Undo 4
Brief Description:
Undo 4 is a challenging amalgamation of touch, sight, and sound. With four circles, players must line up the jumbled up circles.
Seller:
Pedro Nunez Calzado
Current Version Rating:
0.00 stars, 0 ratings
All Versions Rating:
0.00 stars, 0 ratings
Get in App Store
Description:
UNDO 4 is a fascinating new touch, sight and listening experience. A minimalist interface, engrossing music and absorbing game piece moves – all designed for you to have fun and relax your mind. UNDO 4 is very simple to play though the solutions may be incredibly complex!
In addition to all this, UNDO 4 is game to make you think.
The four game pieces and the way they behave are the basis of a total mental challenge. All the pieces are linked and any move you make on one has a knock-on effect for the rest.
Do you think lining them up will be easy?
Every level starts with the pieces centred on their bases... to then immediately get jumbled up. Your aim is to get them back in their original position before you run out of available moves for each piece. UNDO 4 has four pieces that react differently to each other's moves:
- Up (always up)
- Normal (same direction)
- Down (always down)
- Odd (opposite direction)
By moving just one of the pieces, you create a global move since they all react by moving in turn. Controlling the effects of a piece on the others is the key to solving the game. You can play UNDO 4 in four different ways based on the number of pieces (two, three or four) and the number of moves allowed (limited or unlimited). Unlimited mode is designed to relax you, since you cannot lose! All you need do is enjoy the music while solving each level, without having to keep an eye on the number of moves you make.
The levels are split into groups of five so that when you lose a match, you go back to level one in that group (not to the start of the game). The number of allowed moves for each piece gradually decreases as you move through the levels, meaning the game gets more difficult as you go along. We hope you enjoy the game as much as, or even more than, we enjoyed creating it!
Feel free to send us your feedback... info@bypencil.com
What's New in Version 1.2:
We have drastically reduced the file size! You will enjoy a faster download... If you like Undo 4, please rate it.