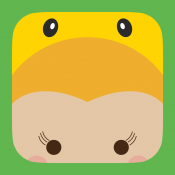 Addition with Ibbleobble
Current Version Rating:
0.00 stars, 0 ratings
All Versions Rating:
0.00 stars, 0 ratings
Get in App Store
Description:
'Addition with Ibbleobble' is an excellent method of helping children of all ages to learn addition. This app will aid the development of mental arithmetic, helping them to gain a feel for numbers and the relationships between them. By joining their new friends in Ibbleobble, each child can choose a cute character companion who will guide them along their journey of learning. Each character represents a different level of difficulty: Mr. Mousey shows beginners the way, whilst Florence the Fox is there to guide more advanced learners. At Ibbleobble, we understand that everyone's different, so our app allows young learners to progress at their own pace, or take a challenge against the clock! The friendly, easy-to-use interface presents basic addition sums on-screen, allowing children to choose answers from a multiple-choice list. To recognise their hard work and achievement, children will collect their character's favourite objects as a reward. Whether it's cheese for Mr. Mousey, or shells for Kelly the Rabbit, the more they achieve, the happier their companion will be! Features: • Simple to understand game play • 100s of different puzzles • Multiple choice answers – to teach through both process of elimination and knowledge • Repetition used to aid learning • 7 levels of difficulty – the higher the level, the more challenging the sum • Fantastic sounds and voice-over • Colourful, friendly characters • Outstanding, vibrant graphics • No third-party advertising • 100% ALWAYS ad free About Ibbleobble Have you ever wondered if anyone else has asked the same questions as you? Ibbleobble is a place, high up in the sky, past the clouds, only you can imagine! In Ibbleobble we like to wear our thinking caps, get together and find out the answers. We're different to you and you're different to us and we're all different to each other. And in Ibbleobble that makes perfect friendship. It's important to celebrate those differences. This means we can learn from each other's strengths and nurture all our weaknesses. Put your thinking cap on, close your eyes, and let's go learn. Social Links Website: www.ibbleobble.com Facebook: www.facebook.com/iblobl Instagram: www.instagram.com/iblobl Twitter: www.twitter.com/_iblobl If you experience any problems with the application or would just like to get in touch we'd like to hear from you. Please email us with full details at: apps@kidd.co
What's New in Version 1.2:
- Updated for iOS9 - This also resolves issues for iOS9 users who may have experienced missing images.